Evolution of the global spirits market - 2017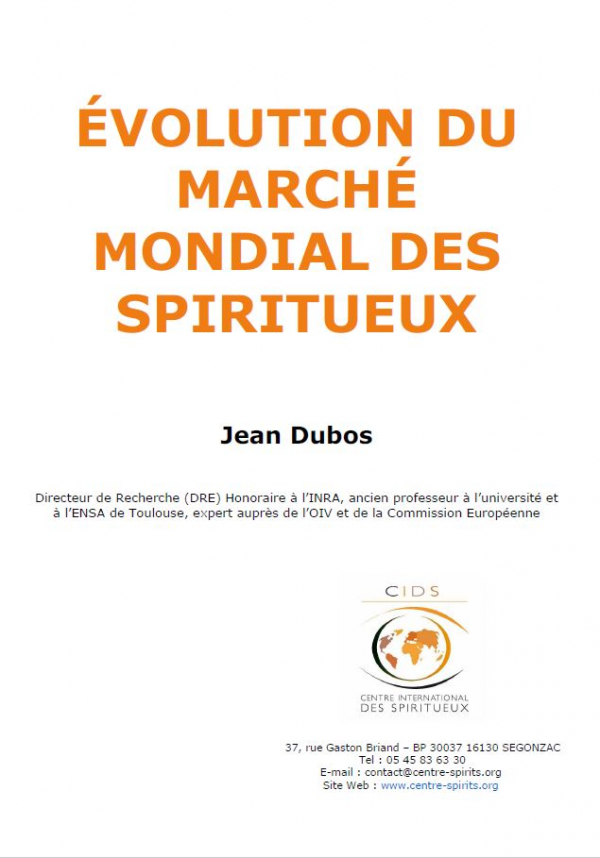 The CIDS publishes research papers putting in perspective the information selected in our spirits watch.
Available only in French. 
Dans son rôle de vigie des spiritueux, le Centre International des Spiritueux poursuit sa collaboration avec Monsieur Jean DUBOS, Directeur de Recherche (DRE) Honoraire à l'INRA, ancien professeur à l'université et à l'ENSA de Toulouse, expert auprès de l'OIV et de la Commission Européenne.
L'étude porte sur l'évolution récente du marché mondial des spiritueux.
Elle met en perspective les informations que nous sélectionnons, chaque jour pour vous, dans Spirit'express® et Spirit'hebdo.
Elle présente l'évolution de la consommation « visible » de spiritueux dans le monde et les facteurs clés déterminant son évolution.
Vient ensuite une analyse des plus grands marchés nationaux: Chine, Inde, USA, Russie, Corée du Sud, Japon et Brésil.
Enfin, elle fait le point sur l'évolution de l'activité des grands groupes de négoce.