Overview of the global spirits market - 2016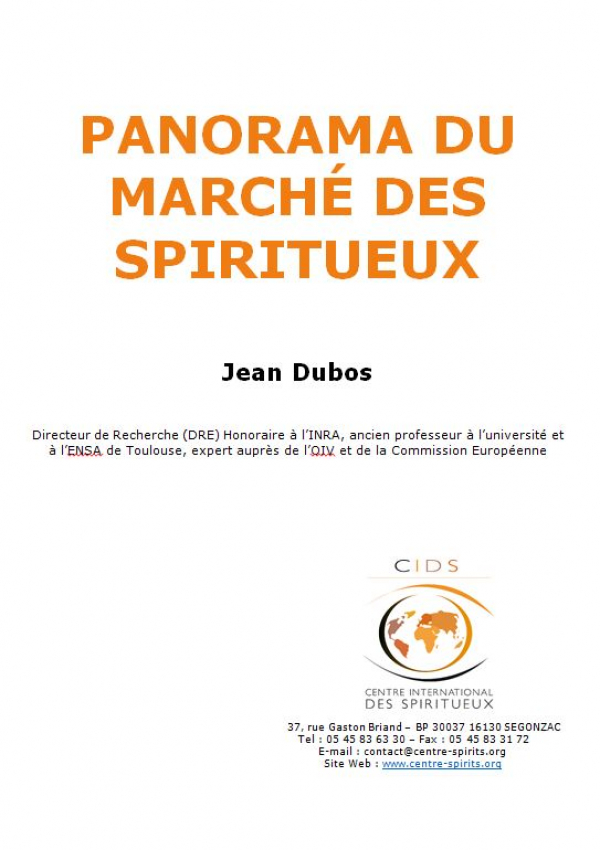 The CIDS publishes research papers putting in perspective the information selected in our observation activity.
Available only in French.
Dans son rôle de vigie des spiritueux, le Centre International des Spiritueux poursuit sa collaboration avec Monsieur Jean DUBOS, Directeur de Recherche (DRE) Honoraire à l'INRA, ancien professeur à l'université et à l'ENSA de Toulouse, expert auprès de l'OIV et de la Commission Européenne.
En 2016, cette synthèse porte sur l'évolution récente du marché mondial des spiritueux.
Elle s'inscrit dans le travail de veille de notre observatoire et met en perspective les informations que nous sélectionnons, chaque jour pour vous, dans Spirit'express® et Spirit'hebdo.
Après un rappel de l'évolution des grands marchés nationaux, elle présente l'évolution des ventes de 15 catégories de spiritueux :
4 spiritueux nationaux : baijiu, soju, sochu et cachaça;
11 spiritueux internationaux : vodka, scotch whisky, autres whiskies, rhum, gin, brandy, liqueurs, bitters et apéritifs, tequila, cognac, anisés.
Une synthèse sur les 12 principaux groupes constitue la troisième partie.